Newsletter July 2022 - Julia User & Developer Survey and Julia T-Shirt Contest - Respond Today!
By Andrew Claster | Jul 15, 2022
Julia User & Developer Survey and Julia T-Shirt Contest: The 2022 Julia User & Developer Survey is open now - please respond today! The survey is available in English, Japanese and Spanish. Click here to respond. Results will be presented at JuliaCon. Respondents are invited to enter a contest to win a free Julia t-shirt.
Julia Ranks Top 5 Most Loved Programming Language in Stack Overflow Developer Survey: For the second year in a row, Julia ranks #5 on the list of most loved programming languages in the Stack Overflow Developer Survey, ahead of Python. The full list is available here.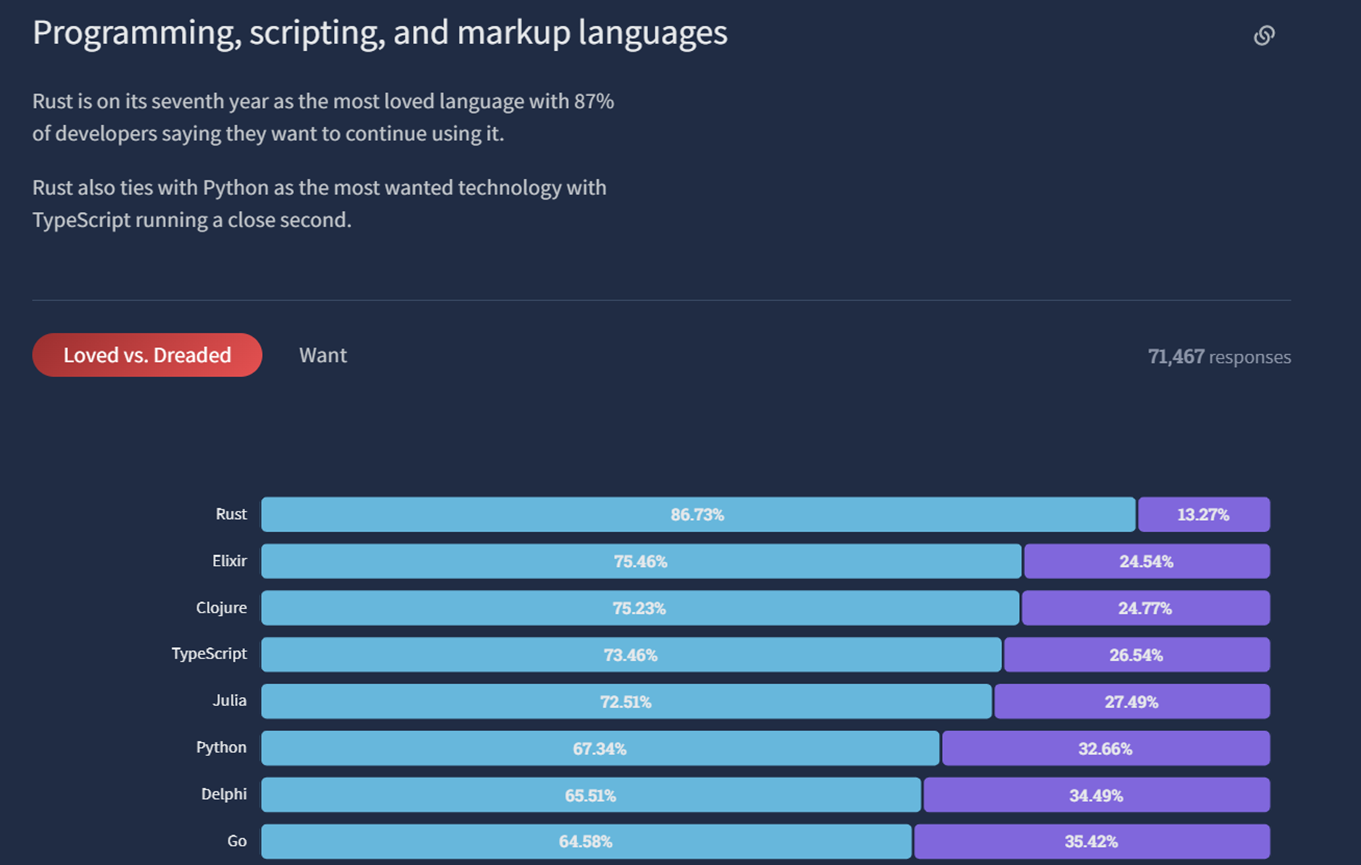 JuliaCon 2022: JuliaCon 2022 will be free and online July 27-29.
JuliaSim Webinar from Julia Computing: JuliaSim is a next-generation cloud-based simulation platform from Julia Computing. It combines the latest techniques in scientific machine learning (SciML) with equation-based digital twin modeling and simulation. JuliaSim's modern machine learning-based techniques accelerate simulation by up to 500x, changing the paradigm of what is possible with computational design. Join us for this introduction to JuliaSim, hosted by Dr. Chris Rackauckas, Director of Modeling & Simulation at Julia Computing. Chris will share insights into the power behind the product and how it is currently being used to make buildings more energy-efficient, improve semiconductor design, and help design new and long-lasting batteries. The Webinar takes place on Tuesday July 19 from 11 am to 12 noon Eastern (US). Registration is free. Click here to register.
Watch More Free Webinars from Julia Computing: Recent Webinars include Quantitative Systems Pharmacology (QSP) in Julia with Pumas-QSP and JuliaHub 101 - An Introduction to the Code-to-Cloud Platform for High-Performance Computing. Click here to watch these or other free Webinars from Julia Computing.
JuliaCon Meetup at Julia Computing's Bangalore Office: Julia Computing is hosting an in-person meetup during JuliaCon at our office in Bangalore. This event starts Friday July 29 at 5 pm IST and ends Saturday July 30 at 2 am IST. The address is 65, 11th Main Road in Bangalore. Click here to register.
SciML for Astrophysics: Dr. Chris Rackauckas (Julia Computing Director of Modeling and Simulation) created a new lab assignment for the Penn State Center for Astrostatistics Astroinformatics Summer School 2022. The lab, an adaptation of Learning Orbital Dynamics of Binary Black Hole Systems from Gravitational Wave Measurements (Keith et al. 2021), involves 'learning geodesics of binary black hole systems using prior knowledge of Newtonian physics in universal differential equations". Click here for more.
Julia for Biology: Differential Methods for Assessing Sensitivity in Biological Models is a new paper describing differential sensitivity analysis for biology using Julia. Julia Computing's Dr. Chris Rackauckas is a co-author.
Julia Computing - Coming to a Conference Near You: Julia Computing will be present at a number of upcoming conferences and events. Click below for more information.
JuliaHub: JuliaHub is the entry point for all things Julia: explore the ecosystem, build packages and deploy a supercomputer at the click of a button. JuliaHub also allows you to develop Julia applications interactively using a browser-based IDE or by using the Pluto notebook environment and then scale workloads to thousands of cores. Version 5 features a brand new user interface, reduced app startup latency, and many more usability enhancements. JuliaHub is the easiest way to start developing in Julia or share your work using dashboards and notebooks.
More information is available in these two presentations from Dr. Matt Bauman (Julia Computing):
JuliaSim: JuliaSim is a next generation cloud-based modeling and simulation platform, combining the latest techniques from scientific machine learning with equation-based digital twin modeling and simulation. More information about JuliaSim is available here.
Pumas: Pumas is the revolutionary advanced healthcare analytics platform that facilitates quantitative capabilities across the drug development cycle. Designed from the ground up in Julia, Pumas allows users to scale, integrate and accelerate their quantitative scientific activities all under one umbrella. Pumas is a product of Pumas-AI and deployed through the JuliaHub platform from Julia Computing to leverage JuliaHub's ease of use and scalability. Julia Computing is a technology partner and exclusive reseller of Pumas. Click here for more information.
Converting from Proprietary Software to Julia: Are you looking to leverage Julia's superior speed and ease of use, but limited due to legacy software and code? Julia Computing and our partners can help accelerate replacing your existing proprietary applications, improve performance, reduce development time, augment or replace existing systems and provide an extended trusted team to deliver Julia solutions. Leverage experienced resources from Julia Computing and our partners to get your team up and running quickly. For more information, please contact us.
Careers at Julia Computing: Julia Computing is a fast-growing tech company with fully remote employees in 12 countries on 5 continents. Click the links below to learn more about exciting careers and internships with Julia Computing.
Marketing
Sales
Engineering
Product and Program Management
Internships
Please click here for more information and to apply.
Julia and Julia Computing in the News
Julia Blog Posts
Upcoming Julia Events
Recent Julia Online Events
Contact Us: Please contact us if you wish to:
About Julia Computing and Julia
Julia Computing's mission is to develop products that bring Julia's superpowers to its customers. Julia Computing's flagship product is JuliaHub, a secure, software-as-a-service platform for developing Julia programs, deploying them, and scaling to thousands of nodes. It provides the power of a supercomputer at the fingertips of every data scientist and engineer. In addition to data science workflows, JuliaHub also provides access to cutting-edge products such as Pumas for pharmaceutical modeling and simulation, JuliaSim for multi-physics modeling and simulation, and Cedar for electronic circuit simulation, combining traditional simulation with modern SciML approaches.
Julia is the fastest high performance open source computing language for data, analytics, algorithmic trading, machine learning, artificial intelligence, and other scientific and numeric computing applications. Julia solves the two language problem by combining the ease of use of Python and R with the speed of C++. Julia provides parallel computing capabilities out of the box and unlimited scalability with minimal effort. Julia has been downloaded by users at more than 10,000 companies and is used at more than 1,500 universities. Julia co-creators are the winners of the 2019 James H. Wilkinson Prize for Numerical Software and the 2019 Sidney Fernbach Award. Julia has run at petascale on 650,000 cores with 1.3 million threads to analyze over 56 terabytes of data using Cori, one of the ten largest and most powerful supercomputers in the world.
Welcome to JuliaSim: An Introduction
JuliaSim is a next generation cloud-based simulation platform it combines the latest techniques in SciML with equation-based digital twin modeling, accelerating simulation by 500x.
Watch Now